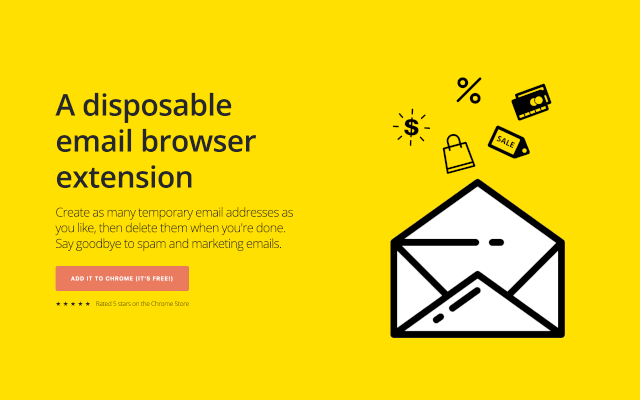 What are temporary email addresses?
Temporary email addresses are exactly what they sound like – temporary. While your normal email address might be many years old, a temporary email can last for as little as a few minutes. The addresses they generate are often quite random, but that's okay as they're only short lived and are often only used once. That means they're easily copied, pasted then forgotten. Disposable email services often only allow you to receive emails in order to prevent abuse.
Why would you want to use a temporary email address?
Temp emails are very common and many people use them to avoid filling their normal email addresses with junk mail. Websites and apps which offer free trials are a prime example: they'll offer you a free trial or sample, and then use your email address for further marketing. By using a disposable temporary email, you make sure that their marketing emails never reach your personal inbox.
Why shouldn't I use my normal email address?
The main reasons you wouldn't want to use your normal email address on the internet include:
You'll provide companies with your email, allowing them to send you marketing campaigns.
Companies often sell on their users emails, or work with partner providers and send you unsolicited emais.
When websites are hacked, your email is leaked. If you re-use a password frequently, hackers can then attempt to log in to your accounts. By using a disposable email, hackers only have half of your details and won't know your real email address.
Opt-out links don't always work. They should, but it's convenient for companies when they don't. By using a disposable temporary email, you can delete the email address and never hear from them again.
Email addresses are one way for online marketers to track you. Ever felt like it was weird your online shopping habits followed you around the web? Cookies, along with email addresses are a way for websites to re-target you from website to website. By using disposable emails, you break that link and regain privacy.
These are just some of the many reasons why you should make use of disposable emails.
Do temp emails get blocked?
Sadly yes, they do. It's a game of cat and mouse. One way to not get caught is to use your own domain names. This is a paid feature we'll soon be offering to our users and will help cut back the number of websites which reject you.
What's the best way to not get blocked?
Using temporary emails for genuine reasons will likely not get the domain blacklisted, but when you're sharing it with many other users, that becomes challanging. The simple solution is then to use your own domain. They're cheap – or you can use a sub-domain – and that way you won't hit any block lists. If this is something that sounds interesting, this is available with a Premium account.
Are temporary email addresses legal?
Absolutely! You shouldn't use temporary disposable emails for anything nefarious. As with all technologies, they can be used for good and bad. We hope you'll use this for good.
How can I get a temporary email
You can get started with temporary emails with Inboxes.app, a free disposable temporary email chrome extension. It sits in your browser and lets you create new addresses as you need them. Once you're done with an email address, simply delete it and you'll never hear from that website ever again.