Yahoo is a big tech company that's just sort of… there. Not doing a whole lot, but because its been around for a while, people kind of use it when they have have to and they trust it. Which is why the Yahoo disposable emails feature was a great tool. They've had email for a while, and then they created Yahoo temporary email.. and then they took it away and made it a paid feature.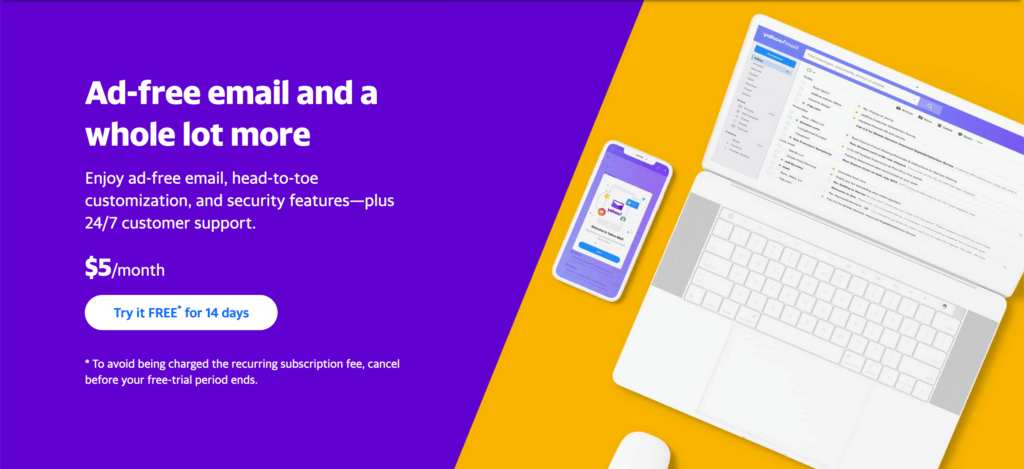 With email being a tool which hasn't innovated much over the years, it's great to see Yahoo is attempting to stand out from the crowd in this area with more privacy focused features. So while email may be old tech that we're stuck with for for future, it's still a great tool to improve on.
What features does Yahoo Mail Plus offer?
Yahoo Mail Plus offers traditional email with a few features such as email aliases, domain block, fewer ads on Yahoo and no account expiration where by innactive accounts won't get deleted.
24/7 general account support subscriber perk is available to those who may need it, however as most of us already understand and use email daily, I suspect it won't be of great use to the masses. Still a great offering for those who may require just a bit more help.
How much does Yahoo Mail Plus cost?
There is one plan which costs $5 per month, with a 14 day free trial. While this was previously free, Yahoo temporary email is no longer part of the normal Yahoo Email package, and to access it you'll need to upgrade to their paid plan.
What if I want to use a yahoo email as temporary email?
Like any email address, you can have a primary and a secondary. The primary being used for your important work and correspondance, while you can use a second provider such as Yahoo or Gmail for less frequently used messages and email. While this keeps the primary a little more anonymous and junk free, it does mean you'll be jumping between accounts more frequently. The positives of using two different providers is that you won't need to log out and back in to accounts with the same provider. A little win for convenience.
Be warned though – some providers make this little more complicated by requiring mobile phone numbers and details, so while this may seem a good approach, using the same provider could complicate the signup porocess.
How can I create temporary emails?
Services such as Inboxes.app offer a simple way to create, use and then destroy emails much like the Yahoo temporary email feature. By using a browser extension, your temporary emails never go near your actual inbox, and instead sit in your browser.